4 years ago · 2 min. reading time · visibility 0 ·
A little buzz about Riding Shotgun: A book for men and the partners they care for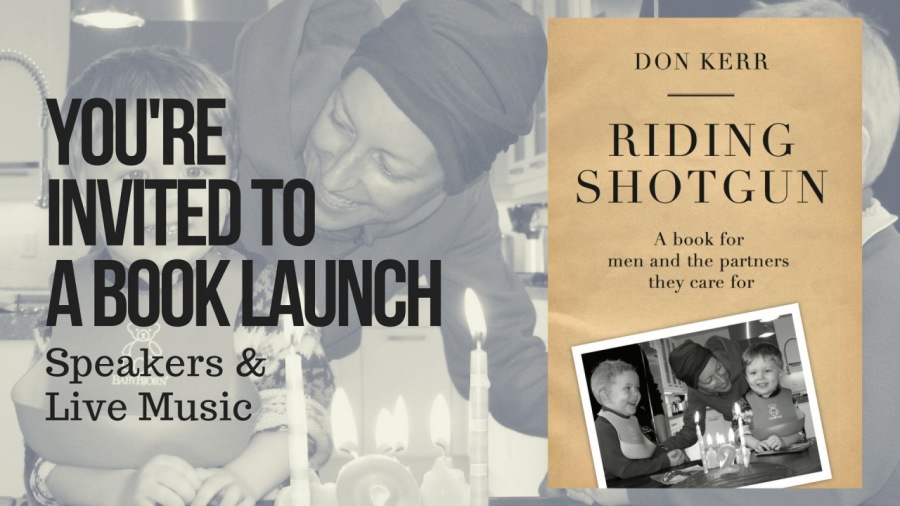 February 4, 2017 15:00 - 17:30, MacLachlan College, 
337 Trafalgar Rd, Oakville, Ontario, Canada 
FOR IMMEDIATE RELEASE
January 12, 2017: In anticipation of World Cancer Day on February 4, 2017, a new book titled Riding Shotgun (9780995839007/PB/178 pages/$20.00/Amazon http://tinyurl.com/ ridingshotgunbook) by Don Kerr chronicles the five-year trek he and his young family took following his wife's diagnosis with a rare and aggressive form of breast cancer in 2011.
In this sometimes raw, always vulnerable and informative book, Kerr shares powerful insights along with practical advice and actionable tips for caregivers.
Described as "a book for men and the partners they care for", Riding Shotgun will indeed prove valuable to every cancer patient caregiver. Riding shotgun (the person seated next to the driver in the days of stage-coach travel) on the cancer coach, while preferable to sitting in the driver's seat, is no easy feat for anyone. This is a tender, droll yet brutally honest summation of the daunting challenges facing the cancer caregiver while they deal with the daily demands of parenting, working and simply surviving one of life's most difficult family situations: potentially catastrophic illness.
Written with clarity and simplicity, the book contains useful advice born of the five-year ordeal of Kerr and family that opens a window to the unspoken issues that many encounter while confronting the apparently impossible. Kerr also shows the reader how people can find beauty in the wreckage.
In Riding Shotgun the reader will learn how to self-advocate, how to marshal a team and gain insights into Kerr's Top 10+1 List of becoming a compassionate caregiver while caring for yourself at the same time:
Decide to show up.
Acknowledge that you cannot 'fix it'.
Understand or develop the understanding that you must advocate for your partner with all communities with whom you must interact.
Grow a VERY thick skin.
Learn how to practice self care.
Accept any and all offers of help.
Become the record keeper and communications officer with all communities.
Consider seeking professional help.
You will be shocked by the apparent insensitivity of people. Even those who at the outset seemed so solicitous. Know that this a natural part of your cancer trek and that people experience what I call "caring fatigue syndrome."
Admit you can't possibly understand what your partner is experiencing. Ask her to teach you.
Bonus: Forgive yourself your mistakes.
Published by Full Circle Publishing the book is available widely is available on Amazon https://www.amazon.ca/gp/offer-listing/099583900X
About Don Kerr
Don is a husband and a father, a believer in work/life integration and a professional writer and branding consultant who also writes about everyday events on two blogs and several social media sites. He tries always to maintain a childlike sense of wonder and curiosity and sometimes succeeds. He lives happily in Burlington, Ontario, Canada with his family.
- 30 -
Media Contact:
Andrea McLoughlin
416-628-5609
"
You have no groups that fit your search