4 years ago · 7 min. reading time · visibility 0 ·
If you don't know where you've been, can you know where you are?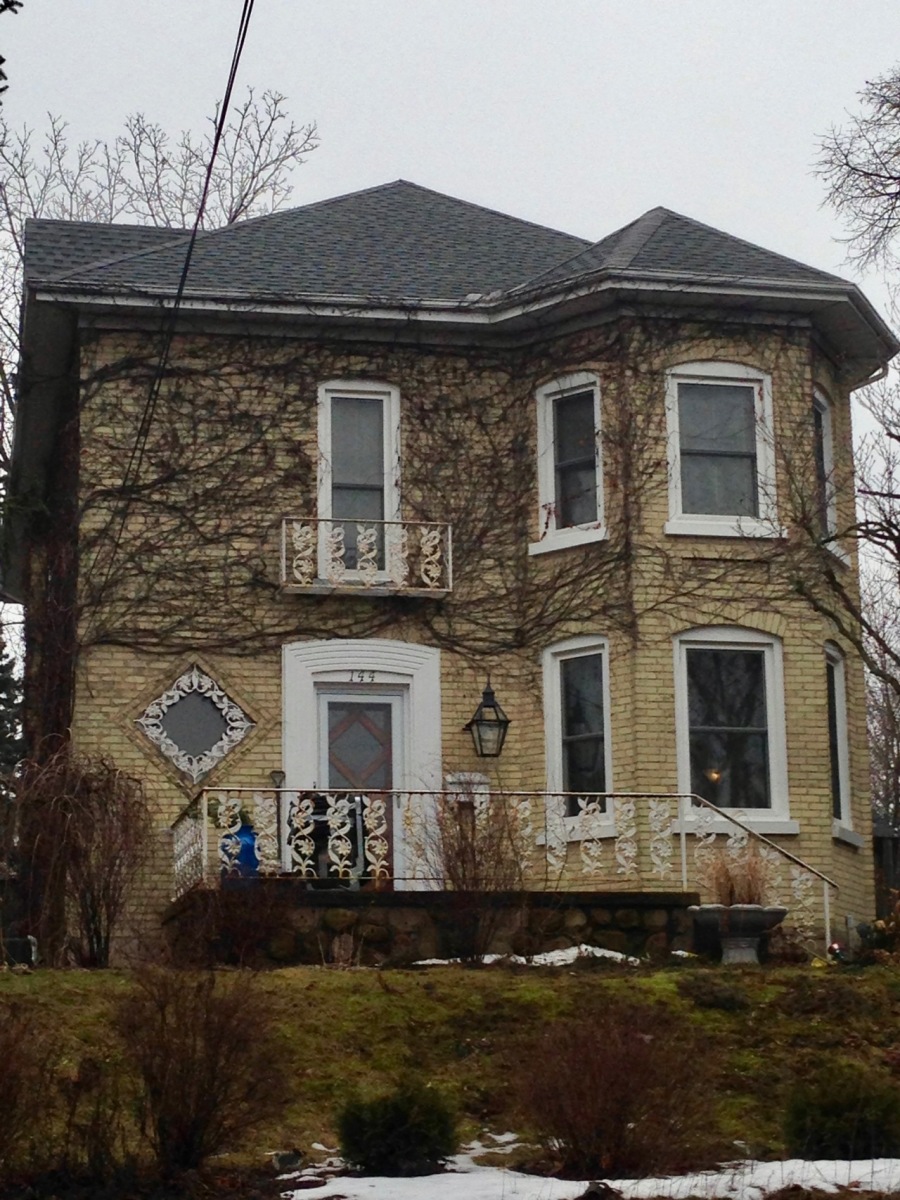 How do you help a business successfully undertake a line extension to its brand? How do you leverage current brand equities? How do you wander back into the brand history then transition to tomorrow?
These are some of the questions I was pondering recently while working with a client. It was the last enquiry that took me down a new path to the past. While on this little trip I learned a lesson relevant to my professional life - how to ensure that the baby doesn't get thrown out with the bathwater.
At the same time some personal learning emerged and since I am a believer in work-life integration it seems appropriate to share both on this platform - I discovered an affinity between Don Kerr Writes and Don Kerr.
Going through some files the other day I came upon a favourite book from my childhood - Glengarry School Days.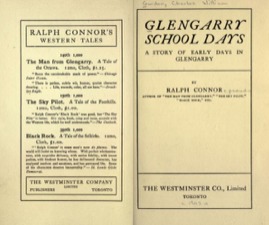 Years ago, on the frontispiece I wrote an inscription - Donald Gordon Cameron Kerr, 144 Walker Street, Hespeler, Ontario, Canada, North America, Earth, Solar System, Milky Way - Olive Eight 2871.
It was an early attempt to establish an identity. Several years later, that quest continues.
Recently, I began to revisit some of the published works of Thomas Wolfe. I've started with Look Homeward, Angel and will move on to eagerly consume Of Time and the River, The Lost Boy, The Web and the Rock, finally to arrive at what I believe to be his greatest work, You Can't Go Home Again.
All of this got me to ruminating about my life growing up in small-town Ontario and it generated some yearning to revisit my roots.
My first home was an orphanage in Toronto. A home for unwed mothers.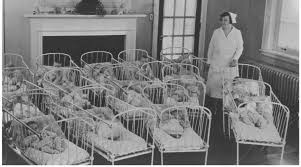 I spent 14 months in the Big City until February 1954 when Henry and Eleanor Kerr adopted me and moved me down the highway to 144 Walker Street.
No, there's no recollection of my early days there. My first glimmering of memory occurs when I was 3 or 4. I have some hazy recollection of my father leaving on a business trip to Japan. I do remember this was a great, big house and I had my own room! The house was situated on at least 1 hectare of property fronted by rolling terraces and in the back was a huge expanse of grass that became the neighbourhood ball field. Great fun for my pals and me. A real pain in the arse to mow - when that became my job.
Not too long ago, when a fit of nostalgia possessed me, I drove down the road to Hespeler and walked Walker Street. Many of the homes from my childhood still stand and not surprisingly, as they were all solid and stolid brick homes. Seeing them charged the memory banks and soon I was wandering the street as a young lad with scuffed knees. The 64-year-old man with artificial knees had checked out!
I strolled down the hill past the Seward's house to the duplex where my best friend Geordie Tennant lived (until he moved into the new development on Elizabeth Street.)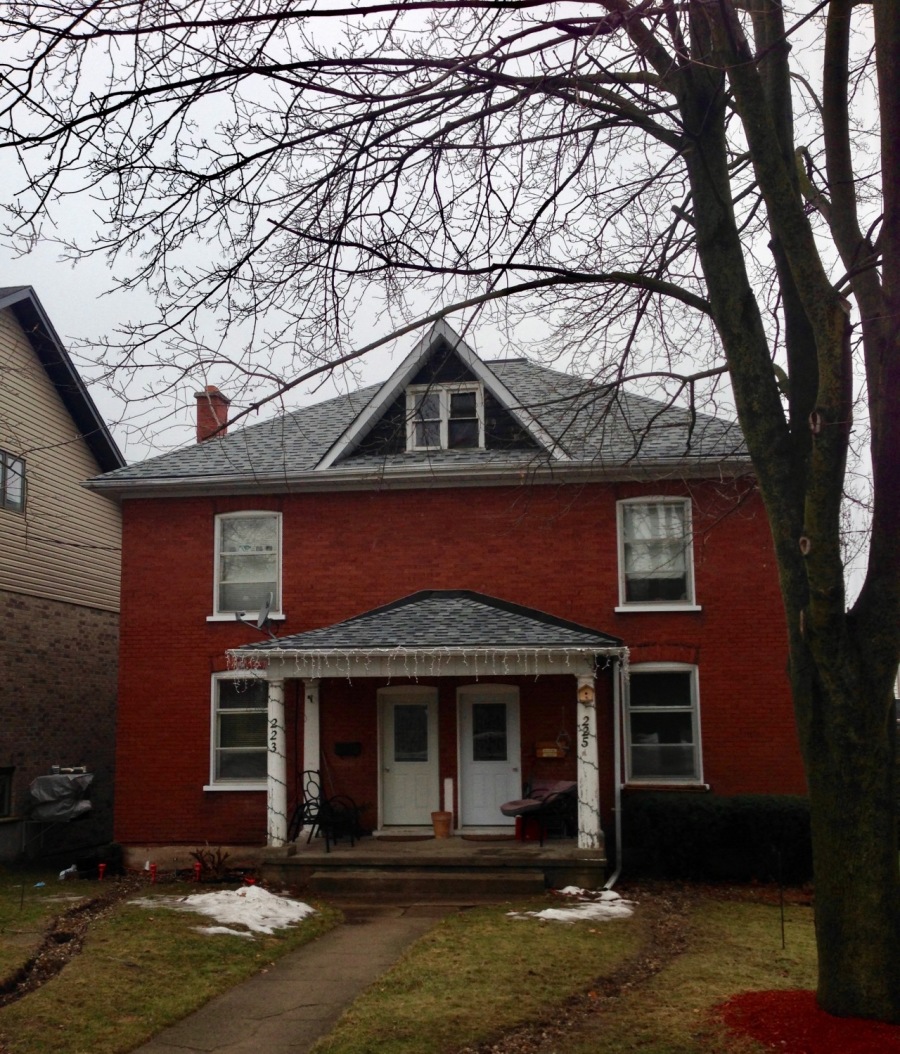 In this house I would spend many hours and around this house we'd get into so much trouble. My boys' brains would explode if they knew even half the stories of what Dad and Geordie used to get up to. 'Exploring' the half-built houses being erected in the neighbourhood. Thundering down a massive snow-covered hill behind the Bumgartner's and Wood's homes on wickedly fast sleds wearing nothing but big-assed, fur-topped galoshes and maybe a toque.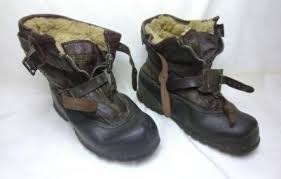 Tossing rocks at each other until someone ended up with a split cranium streaming blood and causing mothers to screech. Listening to Geordie's Dad's vinyl recordings of the speeches of Winston Churchill. Enjoying his very pretty Mom's baked treats.
Geordie and I lost touch for many years after he and his family moved to Vancouver where his parents opened a book store in the tony neighbourhood of Kerrisdale. He now lives the life of a ski enthusiast (ski bum?) in Rossland, BC but we were reunited by the wonders of social media when just about one year ago he reached out on Facebook.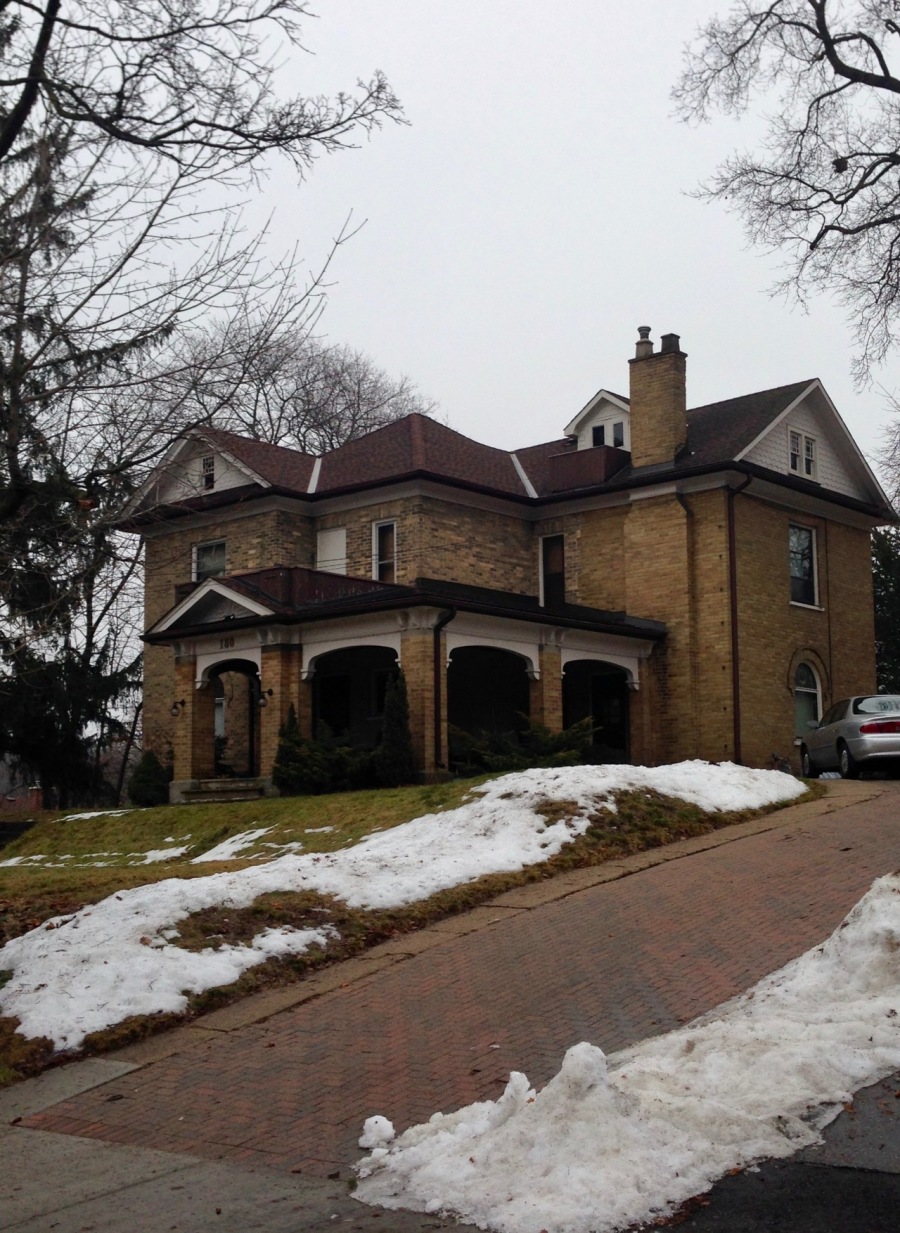 Turning around I climbed the small hill (seemed huge when propelling myself down it on my Supercycle) where I wandered past the home of the Sewards. Frances Seward, one of my classmates, had to be the prettiest girl on Walker Street. Her older sister Suzanne was a beauty too but since she was of my sister Elizabeth's vintage, way out of reach for a snot-nosed little kid such as me. The Sewards lived in the old Panabaker home. To my mind it was a mansion on a hill. Hell, Suzanne and Frances had their own playroom with an awesome, spring-loaded rocking horse.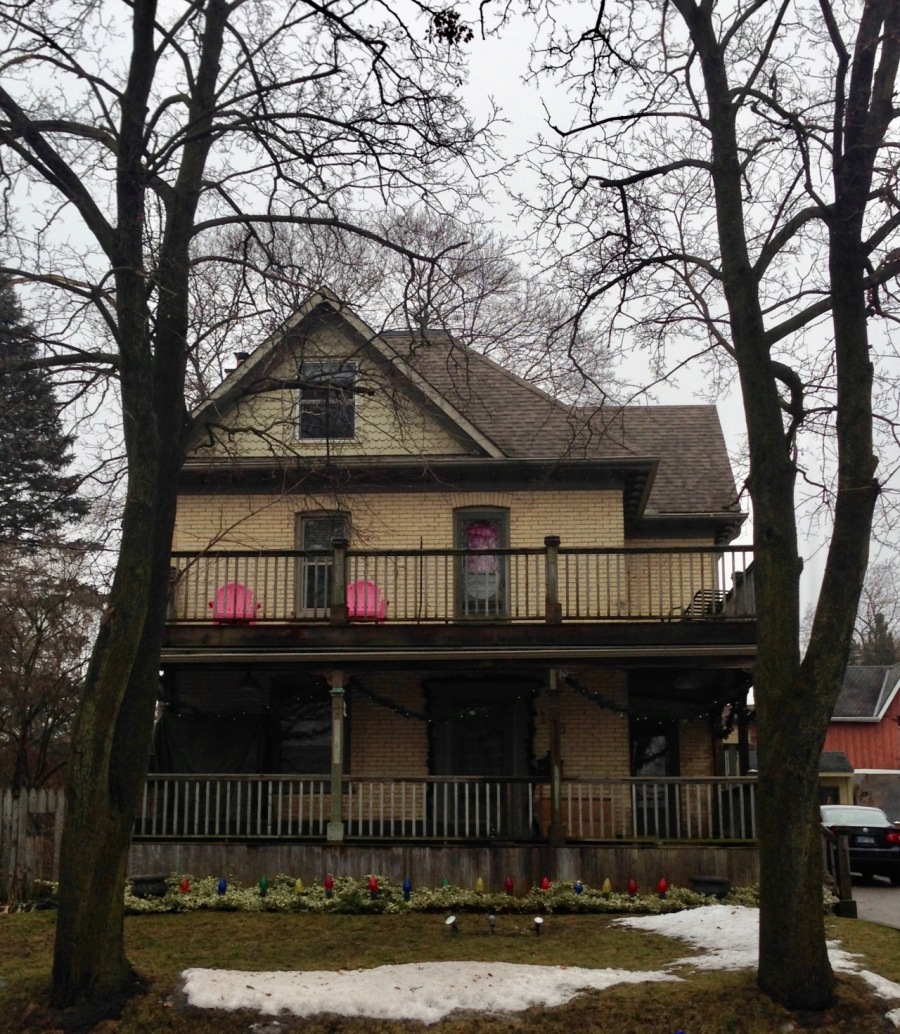 Next door to the Sewards lived the Himes. Again, Judy Himes, another Walker Street glam girl, was a friend of my sister. I don't think I played with anyone from that house but I do recall occasionally scoring cookies from Judy's mother. Probably a payoff for me and my buddies to move on down the street and create a ruckus elsewhere but at that point one didn't much care why the treats were proffered so long as they were plentiful.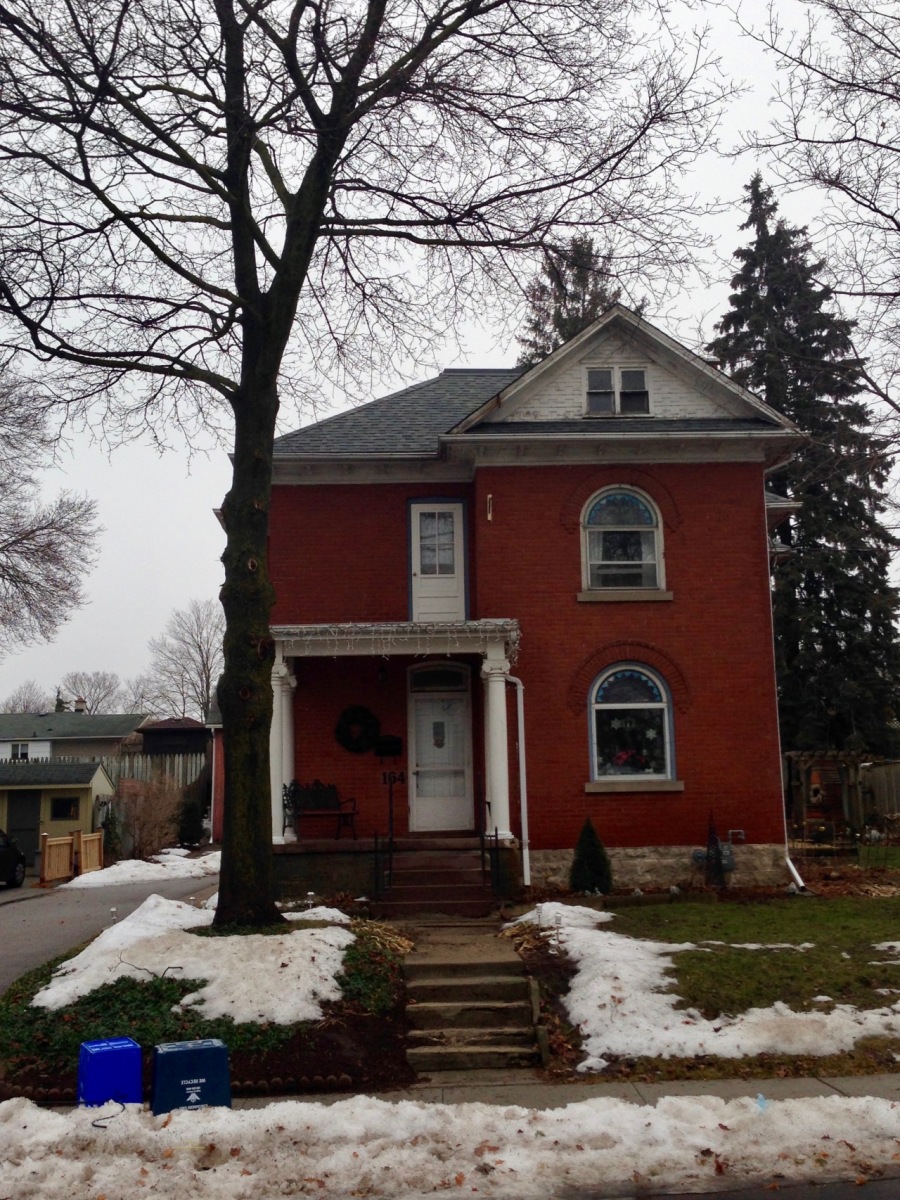 Next door to the Himes lived the Mittens. Mr. Mitten was a good pal of my Dad. He was an early adapter to the world of vinyl siding and created a company with the tagline of 'Put your house in a mitten'. Again, the Mitten kids were older than me so not much playtime there but one time Mr. Mitten tried to kill my father and me on a sea plane flight near Bellwood, Ontario. Seeing the power lines crossing the lake at the last moment and taking evasive action prevented us from doing a nasty splashdown.
The next couple of houses struck no chords with me which probably means one of the following:
no kids

no cookies

grumpy people who chased kids

crap Hallowe'en candy

early onset Alzheimers on my part

people only my sister would recall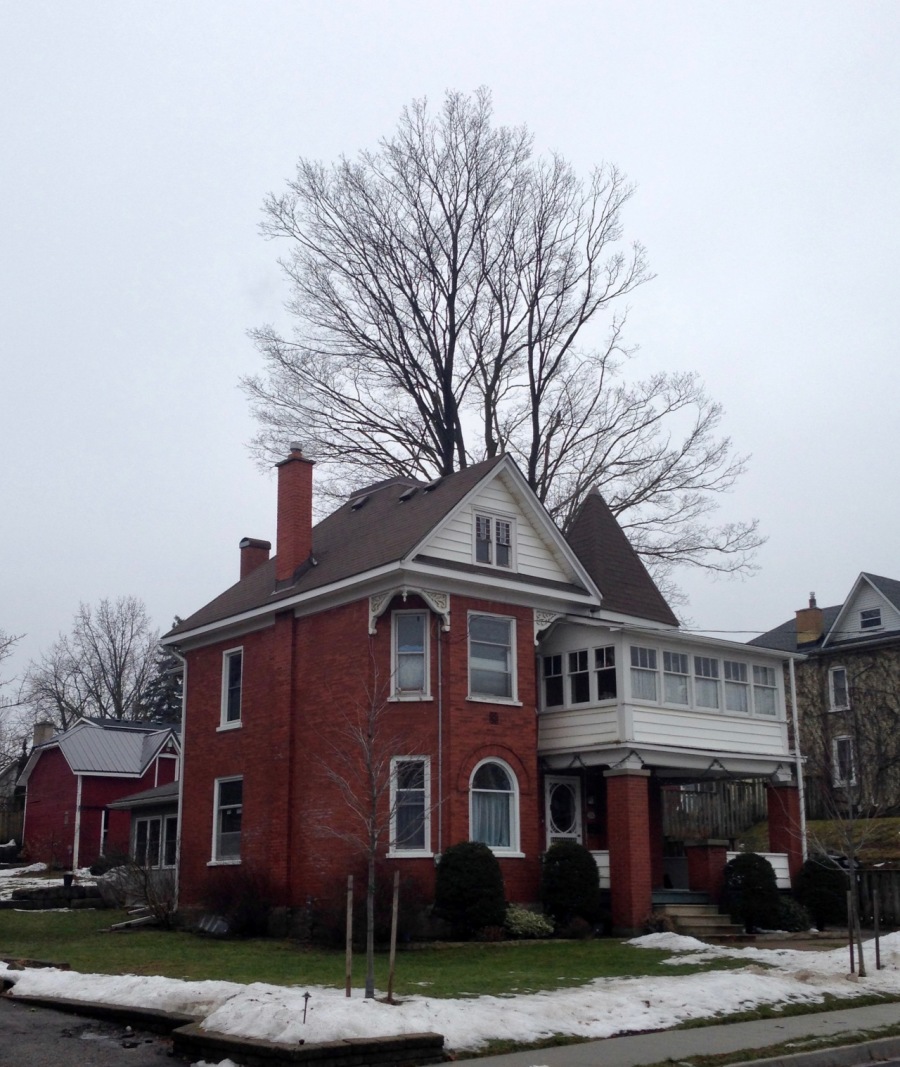 But then I came upon the Cobers' homestead. They had a cool barn out back of the house and what's even more cool is that it still stands. No kids here and frankly the Cobers could be kinda scary. Probably had something to do with their house being right at the foot of one of our favourite toboggan runs or our occasional forays to raid their garden of tasty carrots.
Out front of our house stood two huge conifers. One of them was blown apart by a middle-of-the-night lightning strike, probably sometime in 1958. The same strike also took out the massive radio that was our primary source of electronic entertainment and news. All of this was pretty exciting for a six-year-old boy but when we looked in the back of the console radio the tubes were not a pretty sight and if I recall correctly some of the Bakelite had melted into little fudge-brown pools.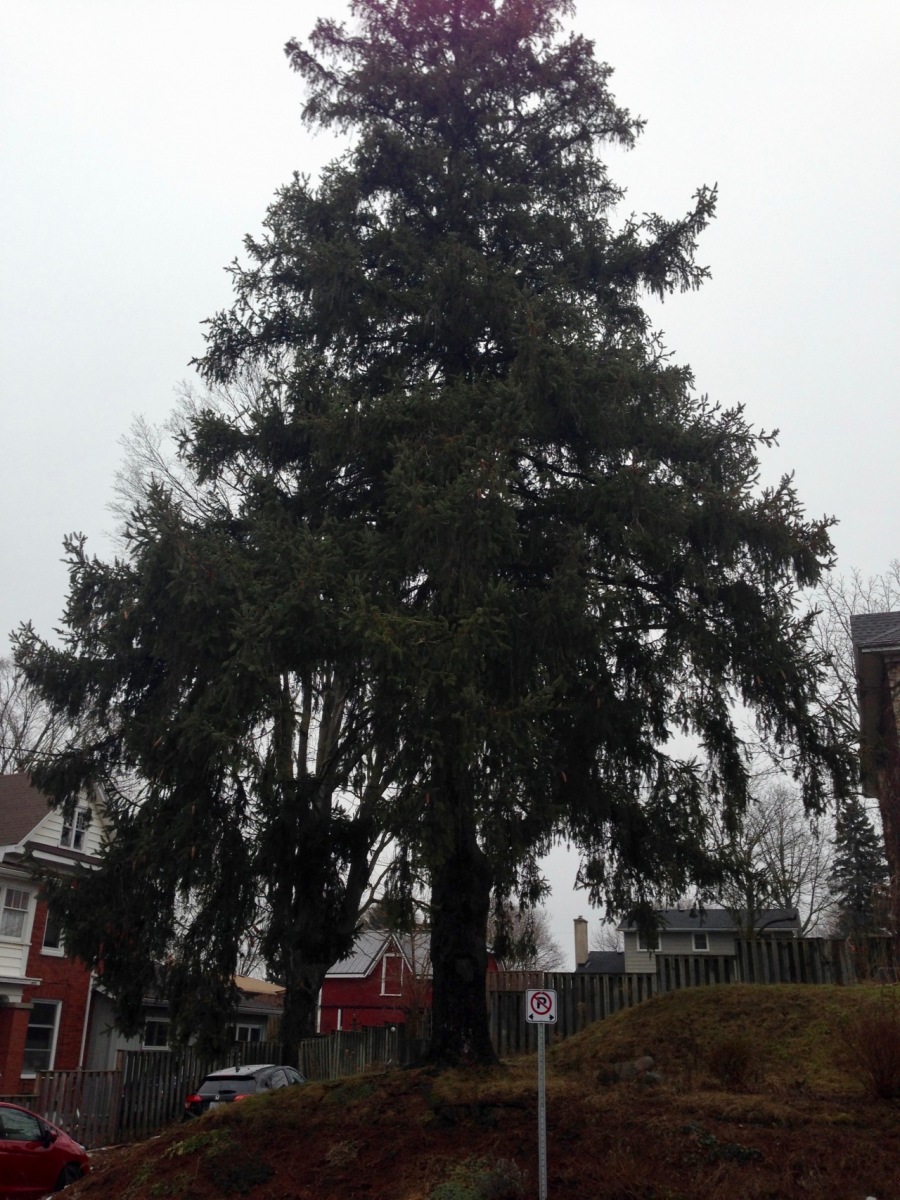 Anyway, the other tree survived and it still stands sentinel today. This was our climbing tree. It was also the tree of teasing. Here, my dear departed cousin Larry, would scramble to the upper heights while calling down to 'Little Donald' below that he was a big scaredy cat who couldn't make it past the first couple of low-hung branches. It hurt. Why? It was true. I was a scaredy cat when it came to clambering up this tree. It was good to see this tree, still thriving. Too often these monuments to nature fall prey to developers or well-meaning town councillors who view them as a danger to children
Immediately across the street from the big tree is the house where Martha lived.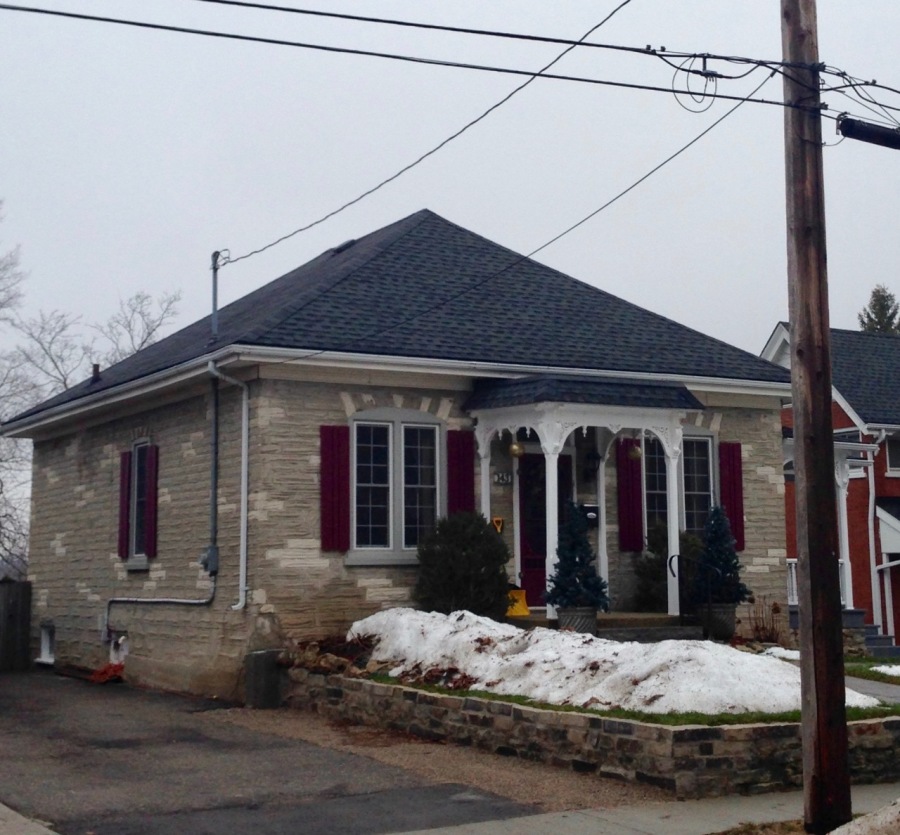 Martha Wildfong was our housekeeper. Actually, that title demeans her - she was in reality a surrogate mother. This was especially true after my mother, Eleanor, started her life with cancer in the early '60s. Martha was a woman with real rough edges and an absolute heart of gold. She and her sister Katherine lived together. They were, to use a phrase no longer in vogue, spinster ladies. Katherine worked at the local Hostess Potato Chips factory. She would bring home bags of fresh chips packed with deep-fried goodness that had just that day been hand-picked from the line. God, they were so good. My sister Elizabeth and I spent hours in this lovely cottage - often spending the night.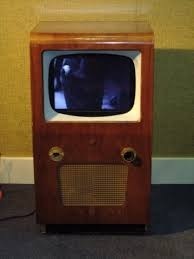 Virtually every Sunday we would traipse down our stairs and cross the street to enjoy an evening of Ed Sullivan and the Wonderful World of Disney. At my house, we didn't even have a B&W television until I was 8. It was there we watched this in total awe: https://www.youtube.com/watch?v=It3Cctk6BRs
Amazingly, to me anyway, was realizing that most of these homes were little changed since the late '50s. The one that had undergone some significant renovation was the Pozzobon house where my friend Ozzy Osborne lived.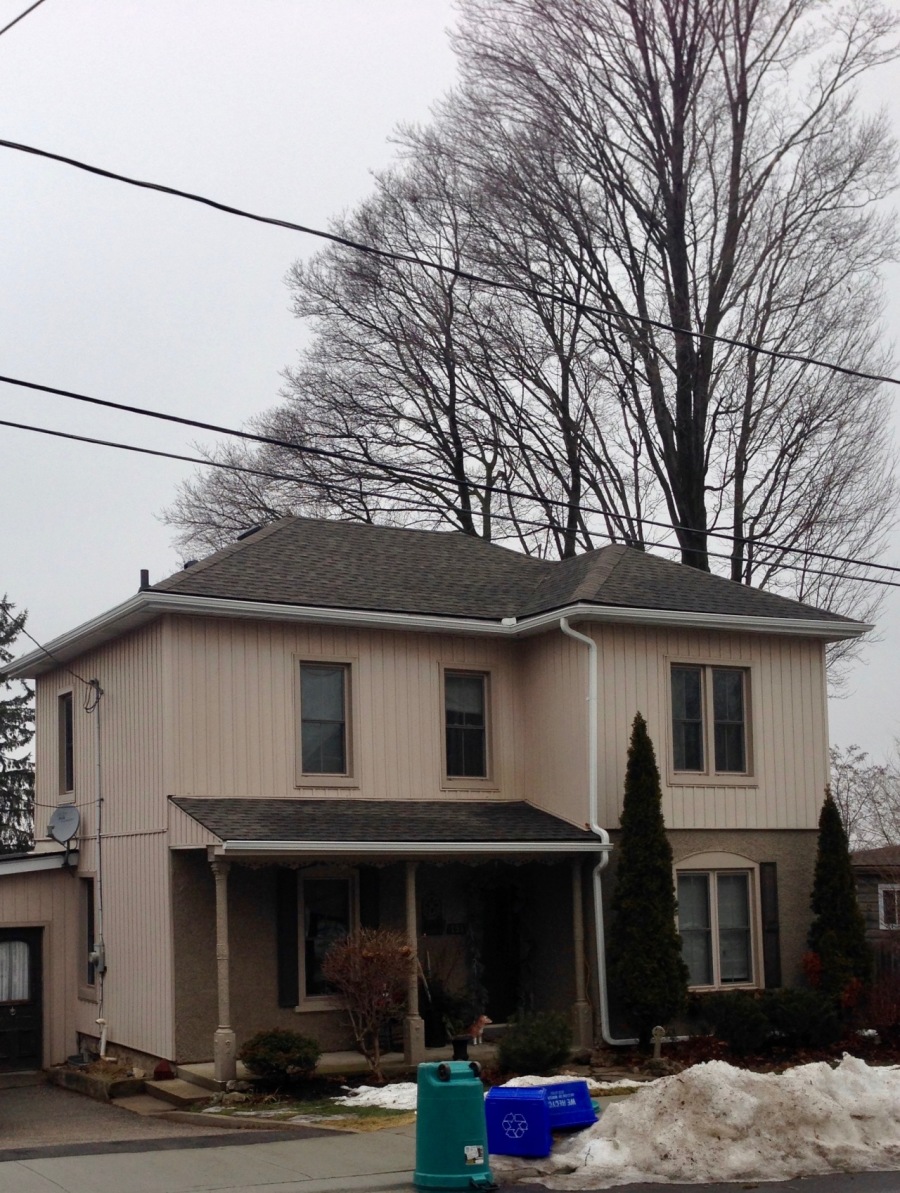 The Pozzobon/Osborne families were unique on Walker Street. First, they weren't of traditional Upper Canadian stock. It was probably at Ozzy's house that I got the first whiff of genuine garlic and fragrant olive oil. Quite possibly where I had my first experience of red wine of the homemade variety and where I learned that bread was something other than fluffy - it could have real bite to it! As well, they brought some grit to the street. By no means were they professional folk or independent business people.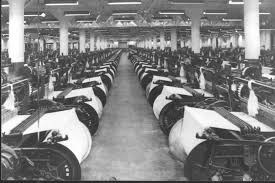 While not sure, it seems likely that they made their living working in the textile factories that once were the backbone of Hespeler's economy. Possibly they worked some shifts assembling Simplicity washing machines or perhaps they worked at the Hespeler Hockey Stick factory. I can't remember but they were good people and honest.
I shot some of the other homes on Walker Street but frankly can't remember much about the families to whom they were home.
So what exactly does all of this have to do with helping a client successfully extend their product line?
This - past is prologue.
As we're launching into new endeavours we do well to spend a considerable time considering the road we have travelled. Too often we're eager to shed the garments of the past and don our new duds. The danger in moving ahead with no nod to the past however is that we lose foundational inspiration and opportunities to anchor our new ventures in reality.
What's new and shiny ain't always best. Sometimes there's real benefit to be had in the weather-worn elements of our past.
Thomas Wolfe wrote, "A young man is so strong, so mad, so certain, and so lost. He has everything and he is able to use nothing."
This can be the case with a new brand. Keeping an eye on what got us to where we are may create greater strength that is, in fact, usable.
This can be the case with a new life circumstance. As you've no doubt heard before, if you don't know where you're going, any road will get you there.
It could equally well be said, if you don't know where you've been, you don't know where you are.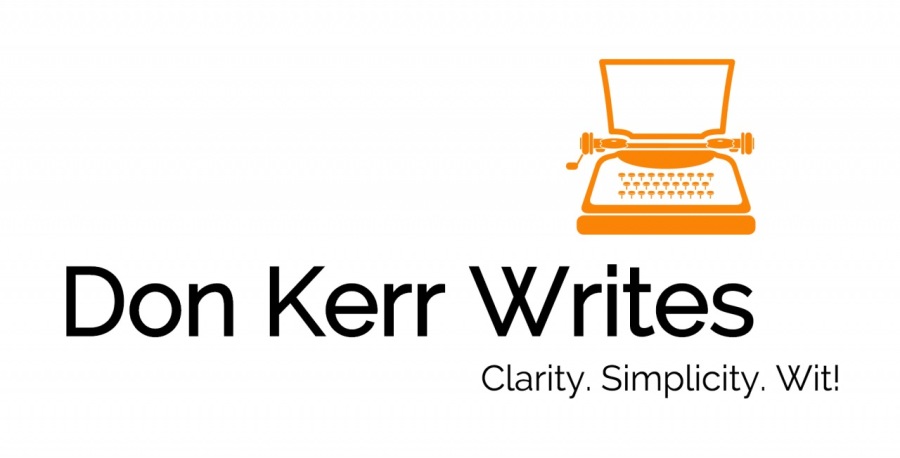 © Copyright 2016, Don Kerr, Don Kerr Writes - All rights reserved.
don@donkerrwrites.com
https://donkerrwrites.squarespace.com
https://ridingshotgun.squarespace.com
""""""""""""""""
You have no groups that fit your search