4 months ago · 2 min. reading time · visibility ~10 ·
Mexican Sun Inspired Tacos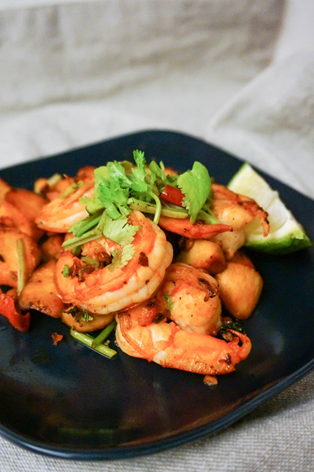 In my life I have travelled to many countries around the world. But the one place that always stands out is Mexico. Every time I go, it's always a new and beautiful adventure. Whether it be a visit to the Mayan Ruins, or a walk down one of the many beautiful beaches, Mexico holds a special place in my heart that has kept me coming back year after year. 
One of my absolute favourite parts of all my trips to Mexico has been the amazing food I have had the privilege of trying. From fresh ceviche, to street food like Elote, and sweet desserts of flan or churros con Dulce de Leche, everything is uniquely flavourful and simply delicious. 
As somewhat of a taco lover, a dish that I have made a point of trying no matter where I am in Mexico, is shrimp tacos. There's something about fresh shellfish, in combination with homemade tortillas that is simply unmatched at the end of a long, hot day on the beach. For many people, comfort food is hearty like mac and cheese. But for me, comfort food brings me back to the place I love the most…. Shrimp tacos are Mexico to me!
Since I haven't been able to travel over the past year, I found a way to bring that Mexican comfort to my weekly life in Canada. My travel cravings have officially inspired my taco Tuesday nights. Either a mini social gathering with friends, or just a cozy Tuesday night in with my cats, these shrimp tacos have become the epitome of what I consider comfort food. 
If you are craving a tropical trip or in need of a delicious weeknight meal, my recipe for homemade Mexican sun inspired shrimp tacos will give you a whole new meaning to comfort food and will keep you coming back for more…
Recipe for Mexican Sun Inspired Tacos
Ingredients:
Shrimp-
 I buy frozen which I thaw out, remove the shells and also devein
Fresh Garlic
Spanish Onion
Lime 
Butter 
Guacamole-
2-3 Avocados
½ Lime
¼ cup of chopped Cilantro 
Salt 
Pico de Gallo-
2-3 Tomatoes
½ Onion
½ Cup of chopped Cilantro 
½ Lime 
Salt 
Queso Fresco (or Feta cheese)
Quest fresco is very similar in taste and texture to feta cheese, so if you are unable to find it, feta will do!
Hot sauce (if you desire an extra kick)
Soft shell tortilla (store bought or homemade if you're feeling extra daring) 
Instructions:
Once your shrimp are prepped and ready to go, sauté your garlic & onion in a pan with butter. Add shrimp when the onions begin to go translucent and cook until pink.
Just as the shrimp are almost ready, squeeze half of one lime over top for a nice citrus kick
For the guacamole, mash your avocados to your desired consistency, add chopped cilantro and salt, squeeze the other half of lime 
For the Pico de Gallo, you will need to chop your tomatoes, onion and cilantro. Fold together, add lime juice and a dash of salt
Layer your soft shell tortilla's with guacamole, Pico de Gallo, shrimp and top with a crumble of Queso 
And there you have it, Rebecca's simple yet delicious Mexican sun inspired shrimp tacos. Believe me, they're so good you'll want them more than once a week! 
You have no groups that fit your search