3 months ago · 4 min. reading time · visibility ~100 ·
Paddling to hear the angels singing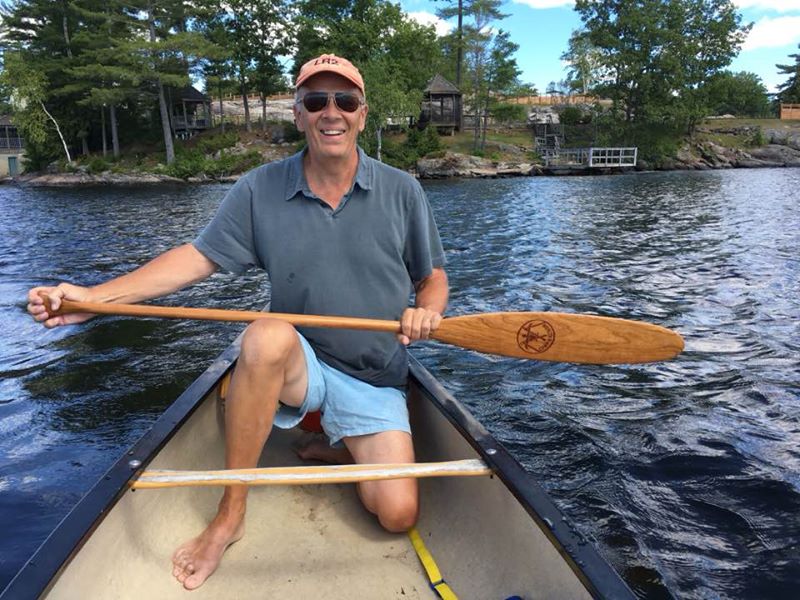 I spent several years as camper, guide, counsellor, and finally program director at Camp Mazinaw. The camp ethos revolved around the canoe. All of us were trained to become confident in our cedar strip vessels in all kinds of conditions. We were taught how to make this nimble device dance. We learned to make it become at one with us and we learned that none of this could be accomplished without a good paddle.
In all my years in a canoe, I used an undersized beaver tail paddle. Even as I grew and the paddle no longer was a perfect fit I refused to give it up. It had become an extension of my arms and hands. It was a tool with which I had become intimate and it worked beautifully for me. 
My paddle accompanied me on many miles travelling the waters of lakes with musical names such as Mississagagon, Kashwakamak, Weslemkoon and traversing the Madawaska River. It propelled me through raging gales and lashing rains. It delivered silent power in blazing sun and worked as an implement to break thin layers of ice on northern Algonquin lakes Cedar  and Cauchon in the very early spring. 
The paddle was retired several years ago and presented to a dear friend with whom I shared wonderful trips and memories of travels to a cabin on Algonquin's Carl Wilson Lake.
It wasn't until 2016 that a new paddle entered my life and it is one of my most treasured possessions. My affection for this implement has very little to do with its physical presence - although it is an object of real beauty. 
Rather it is the spirit in which it was given to me that will resonate until I pass it along to one of my boys. 
It is said that the single greatest influence on our character is that which we have ultimate power over: how we respond to circumstances. Our character begins to be shaped from the very time we are born and is influenced by where we grow up, how we are raised, the examples our parents provide and individuals who offer us direction, inspiration and education in both academics and life skills.
One of the greatest individual influences in my life was Brian Blackstock. It was the summer of 2016 when I had my last conversation with him. Sadly he passed on a few months later.
I first met Brian in the '60s. At the time he was program director at the camp and I was a newbie camper who arrived with a considerable chip on his shoulder. My mother had been in  hospital for a long time trying to overcome bowel cancer. She died in 1967 when I was 14. Brian and the entire
camp family enveloped me in caring and it is to this experience that I  attribute most of the positive character traits that I was able to seize upon. 
The lessons are too many to enumerate but they coalesce around being provided an environment where what August Wilson wrote could take root and begin to flourish.  "Confront the dark parts of yourself, and work to banish them with illumination and forgiveness. Your willingness to wrestle with your demons will cause your angels to sing."
This was part of the dialogue Brian and I shared that summer's day in 2016. He challenged me to consider if this was something I persisted in doing and if the experience of my wife's breast cancer journey took the singing of angels into account.

While I was thinking of this, Brian left the room. He came back carrying a magnificent beaver-tail paddle. It was emblazoned with the crest of Camp Mazinaw and was truly a wonderful creation.
He told me it was mine.
He told me that I must use it. A dry paddle is of little use.
He told me to think of our journeys every time I dipped the paddle into the water and pulled to move forward or feathered it as I moved sideways. He told me to use it wisely to quickly negotiate the turns that life requires by employing the pry stroke and then to change direction again with the draw.
As we were talking I was thinking about how in life so much of what we do is similar to travels in a canoe. Sometimes it is smooth paddling and we relax while enjoying the silence and smooth rhythm of our strokes. Other times we venture into fast-running water and have to skilfully navigate the rapids. This is when our skills must be top notch and our judgement as well must guide us as we determine whether to run the rapids or head to shore to portage.
In my book, Riding Shotgun: A book for men and the partners they care for, I included the following reflection.
I spent summers on Lake Mazinaw canoe tripping. Sometimes I reflect on these voyages as idyllic travels through the bucolic yet rugged landscape. Other times I recall paddling down Kashwakamak, into a stiff breeze, fighting whitecaps while watching the sky darken as we paddled toward a portage that had to be traversed before we could establish camp, set up our leaky tents, struggle to get a fire lit and put some food in our bellies before collapsing into a waterlogged sleeping bag.
The portage required lashing the paddles to the thwarts, hefting a 60-pound canvas pack on my back, securing the tump line around my forehead and hiking 120 pounds of canoe onto my shoulders. Setting out we first welcomed in the black flies and at least one deer fly to torment me until it finally removed a large chunk of my flesh. 
Years later I confessed to a Mazinaw friend that the character-building aspects of tripping were lost on me at the time. Hard slogging, muddy, sweaty, dirty, tiring, irritating forced long marches and endless hours of paddling, always (it seemed) against the wind, and in return enjoying…what?
Simple survival? The occasional spectacular sunset and star show? The infrequent discovery of fresh raspberries that we would pick in the company of Madawaska's black bears? The awakening at 3 a.m. to witness racoons and bears battling for the suspended food packs?
I know now that the answer is simply - yes…that is what it is all about and it is where you can hear the angels singing.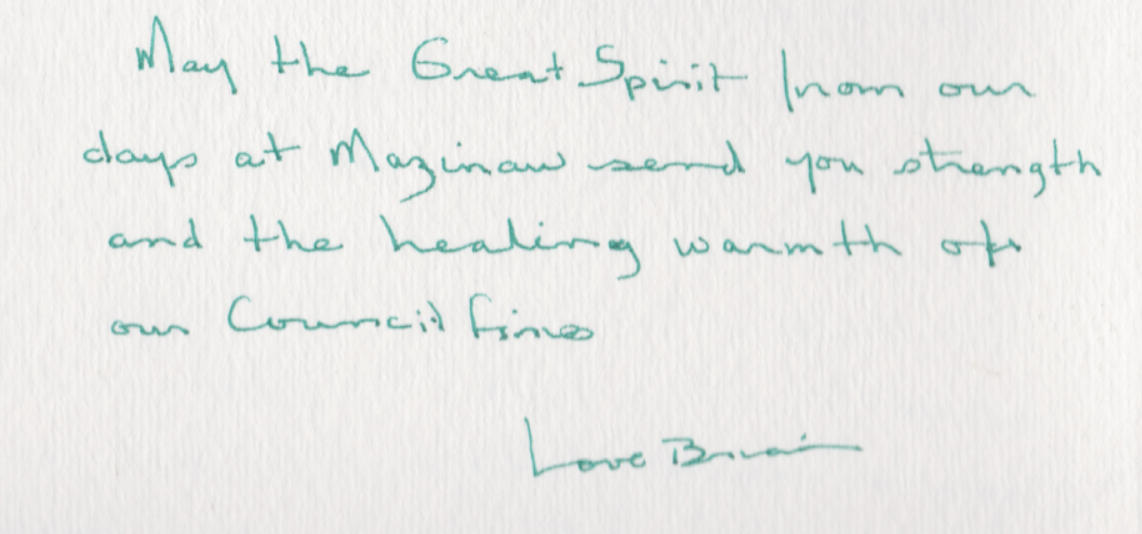 You have no groups that fit your search