1 year ago · 4 min. reading time · visibility 0 ·
The Feat of Feet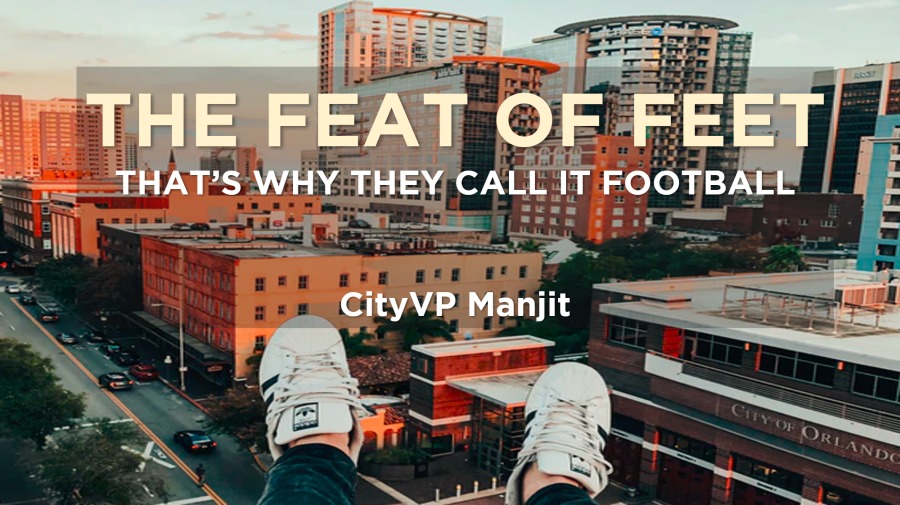 The best pair of feet that Tottenham has right now is Tanguy Ndombele and it is the one we are not seeing.  We saw the promise of it when Ndombele scored on his debut but unlike the surprisingly good Steven Berwign debut, Ndombele has disappeared off the Tottenham radar. 

He is one of the remaining sources of rankle in the dressing room because the way Jose Mourinho has benched him.  He got benched because like his French compatriot Paul Pogba, he has the quality, he is Spurs most expensive signing at 62 million pounds, but like Pogba (and more so) he goes missing in action. 

No leading team can afford an expensive luxury that gives effort when they are inclined to or feel like it.  There will be a team that will get the most out of Ndombele but it is not this present Spurs set up.  Mourinho teams are built on all players no matter their star status, tracking back and doing the ugly and hard stuff of winning back balls and fighting with grit. 

That is one of the key differences with Liverpool, while both teams have great players, Klopp has infused a mentality that make Liverpool a formidable force - even more so than Manchester City, and we all thought that Manchester City was the best team any of us had seen in the Premier League.
When Erik Lamela was bought as one of the seven players with the money Real Madrid paid for Gareth Bale, we all could see that it was Christian Eriksen who was the pick of the bunch.  Sad then that Spurs did not sell him at the right time for $100 million and ended up losing the player when the agent advised Eriksen to let his contract run down.  It is Erik Lamela who has stepped up and is showing the grit.

The irony is that in showing the grit, he should have more confidence in his own talents, which is why originally he was seen as the big replacement for Gareth Bale.  Lamela has developed a ruthless streak, which is good to see but it is at the expense of him realizing his natural skills - he needs to believe in himself more.
Eriksen was also a workhorse and so when Chairman Daniel Levy kept haggling over the last bits of Bruno Fernandes deal, that was another crass decision, especially since at that time Manchester United had inexplicably passed on him. 

Lo Celso was a good deal to get over the table, but Fernandes is another workhorse, albeit with amazing talent and an ability to check his emotions, which was abundant when last week he coolly dispatched a penalty against Spurs for Manchester United.  This with the backdrop of notable penalty misses for United forwards in the last year.
Spurs will need to keep their feet on the ground for the remaining 8 games but their destiny is in other team's hands.  First, the biggest factor standing in the way of having a chance to finish in a Champions League position is the appeal next month by Manchester City to their two year ban.  If the Court of Arbitration overturns UEFA's ban then the most Spurs can look forward to is Europa League football.  If the ban holds then there are two more things needed for a 5th place finish.
They both involve a meltdown by Chelsea and Leicester City.  The reason Chelsea are flying so high is Frank Lampard took his old boss Jose Mourinho to school as Chelsea took 6 points off Tottenham.  The pupil one upped his master and showed that he knew all his tricks and he could get Chelsea to operate at a more controlled and ruthless level. 

It may have exposed Jose Mourinho as a "one trick pony" because before the lockdown he did allow Tottenham players to go with the style that Pochettino taught them. 

It did not work, Spurs were shipping goals in at a rate that is unusual for a Mourinho team.   Keeping West Ham shut out on Tuesday was only the fourth clean sheet of the year and even then West Ham were inches from scoring when the impressive Jared Bowen fierce shot cannoned off the side of the post and towards safety.
What happens if Chelsea and Leicester do not experience a melt-down (and their fixture lists are harder), then Spurs will depend on a semi-melt-down by Wolves and Manchester United.  That just does not look like its is going to happen.  It won't be surprising at all if both Wolves and Manchester United climb past Chelsea in the table and even Leicester, because United will control their destiny by then because they play Leicester in their last game. 

So then the Champions League permutations at the end of the season will be LIVERPOOL - MANCHESTER UNITED - WOLVES - and then one of Leicester, Chelsea or Spurs - and Spurs are the total outside shot for that 5th Place (thanks to the Man City ban).
Thinking back to when Jurgen Klopp had left Borussia Dortmund, how fortunate Liverpool were that they were the main team who jumped on his appointment.  Here is the interesting thing? What would have happened if Daniel Levy had jumped into that race and signed up when he had the chance? 

I don't think Klopp would have been given the resources to build what he built at Liverpool.  He certainly would not have been inclined to pay the Virgil van Dijk transfer price and maybe even not be able to buy Alisson Becker. 

Levy would most probably have broken down negotiations, whereas Liverpool paid that then world record fee for a defender, which was unthinkable as a valuation of any center back at the time.  That van Dijk was voted best player by UEFA - beating the usual suspects of Messi and Ronaldo to the award, says everything about having one's feet on the ground. 

Now that was a fantastic deal for Liverpool.  When everyone including Levy thought they paid too much. What price is van Dijk now? What price would we put on this Liverpool team for what Dijk enabled them to do?

The feat of feet is playing this ground game well, strategically and to create legacy and memories for generations to come.  The feat of football is what this means to a city, or in the case of Manchester City, to a state.  An expensive stadium that due to Covid-19 cannot be filled with fans is a really expensive stadium.  What did Liverpool buy with their money that Tottenham did not? Let's think about how much Liverpool and Klopp have kept their feet firmly on the ground.

As a Spurs supporter the hope is that Leicester and Chelsea both lose their footing, but that seems difficult to imagine, because both have excellent football philosophies and programs - but if there is chink in the armor, that is Spurs best hope of making up the difference and find their way to what now looks like an unlikely Champions League qualifying position.

"
You have no groups that fit your search