The Gestalt Of The Bee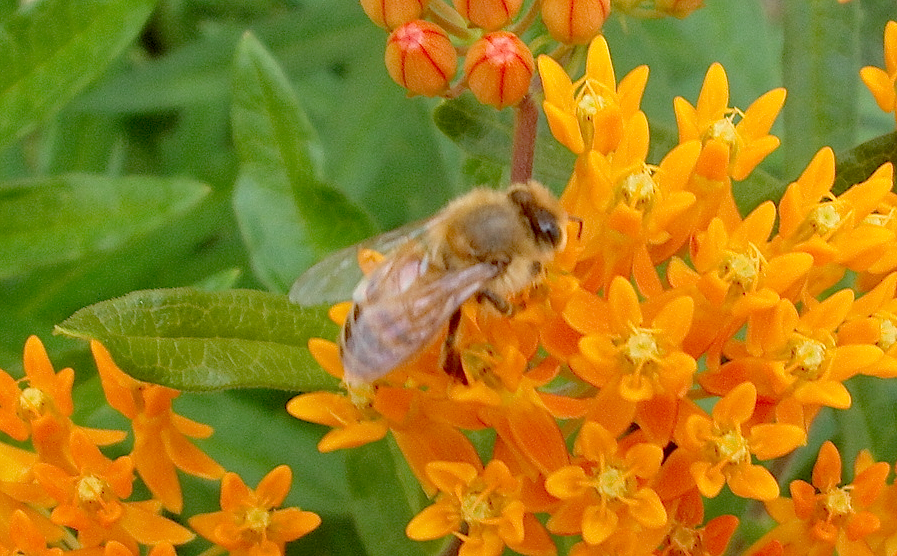 On one of the BeBee posts I did recently, one of the people who follow my musings wrote a very interesting comment, which gave me some real pause. The post was really a bit of an essay on the coming of spring and what it meant to me.
Of course I never really think too deeply about the significance of my writing. After all, if I did I might discover that I am a complete fraud. Or worse, a bullshitter like the many bullshitters I have called out over the years.
But Pam Williams saw something a little different here.
"I don't know what it is Jim but your writing has gotten 20 & Sunny since you've set up your HQ on beBee. Yes you still have your rants about the world but I sense a change. You're happier here and it shows in your work. I enjoyed reading this very much. May you too continue to have your 20 & Sunny forever!"
In the spirit of engagement, which is always Job 1 for bloggers, I responded:
" Thanks @PamelaLWilliams . Your assessment is correct. I have weaned myself off of constantly bitching about LinkedIn, except of course, with Phil Friedman. This is how I used to write before I started posting on LinkedIn. Now I just use it as a pickup site for Richard Di Pilla, Phil's WWACO and Paul Drury's blogpoets.
beBee is much more 'me' than LinkedIn. I never went to LI to get business, because that happens through my network here in TO and through referrals, so blogging was the only reason I was there. When that went south, I got pissed and it started tainting my work.
I now consider myself back to normal. I won't quit LI but I certainly am nowhere near as active as I used to be. Thanks for noticing. That makes me feel all 20 & Sunny."
This exchange is very telling. Since I have been posting here on beBee, I have really made a conscious effort to stay away from the Crusader Rabbit I used to be on LinkedIn.
I am no longer interested in adding my voice to the hundreds of other who are raging against the machine over there.
Besides being of very little constructive use, since LinkedIn never really took any of this seriously, and went on their merry way, traveling to wherever the so called Secular Headwinds would take them, it also put me in a very negative frame of mind. Pretty much all the time.
In other words it was making me into someone I didn't really like.
So when John White told me about beBee.com, I was over there in a shot. Nosing around and getting the lay of the land.
There was no publishing platform at the time, so I simply reposted my WordPress and Pulse posts there, just to see who was interested. It turns out there were a hell of a lot of people.
And there were a hell of a lot more after the publisher got going.
So here I am, back to being myself again, thanks to a bunch of crazy Spaniards with a very good idea of how this medium is supposed to work.
But more than they, they are hands-on and committed to their users. They listen to advice, they respond to suggestions and they genuinely understand that if they are going to be successful, taking good care of their users needs to be job 1.
For me personally, the albatross called LinkedIn that was hanging around my neck, is no longer weighing me down.
I have not quit, because I still have an audience there. But what I am no longer doing is being overly concerned over any of the bonehead moves they make.
It's their business and I wish them all the best.  How's that for positive?

You may be interested in these jobs
Found in: Jooble CA - 4 days ago

---

Winnipeg Regional Health Authority

Winkler, MB, Canada

Requisition ID: 333682 · Competition #: SS-23-326 Position Control #: 119000071260-02 · Posting End Date: Open Until Filled · City: Winkler · Site: Southern Health-Santé Sud · Work Location: Boundary Trails Health Centre · Department / Unit: Slating · Job Stream: No ...

Found in: Talent CA - 2 days ago

---

Warner Bros Entertainment

Montréal, Canada

Full time

Chaque grande histoire a un nouveau départ, et la vôtre commence ici. · Bienvenue chez Warner Bros. Discovery... l'étoffe dont sont faits les rêves · Qui sommes-nous... · Lorsque nous disons l'étoffe dont sont faits les rêves, nous ne faisons pas seulement référence au monde de ...

Found in: Talent CA - 2 days ago

---

PVH

Mississauga, Canada

Full time

If you are a current PVH Associate, please click this link to apply through your Workday account. · Design Your Future at PVH · Lead Sales Associate - Full-Time - TOMMY HILFIGER - Dixie Outlet Mall COME FIND THE PERFECT FIT &JOIN AN ICONIC BRAND · With more than 50 retail lo ...