Three Standing Ab Exercises for a Solid Core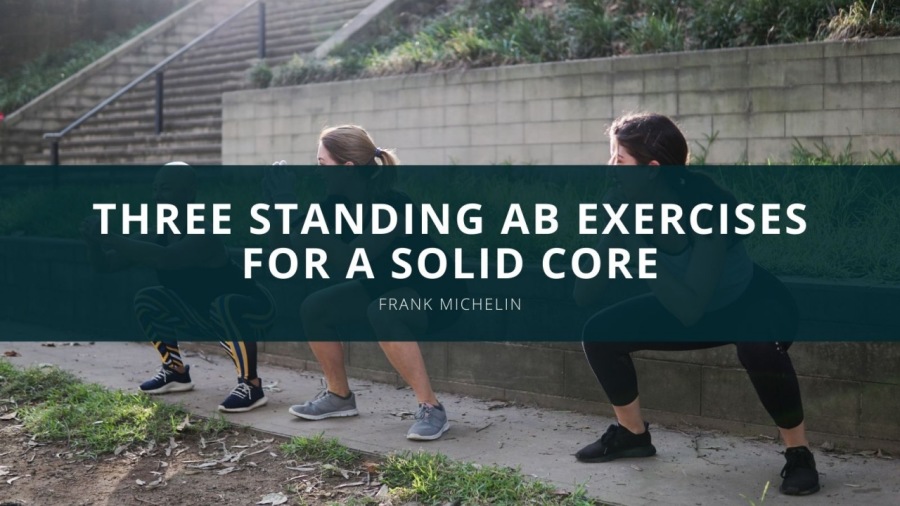 For improved fitness and health, it is imperative to incorporate core exercises in your workout routine. You use your abs or core muscles for just about everything! Sitting upright, standing, walking, weightlifting: you name it, your core does it. Improving your core strength can help you make progress with your range of motion, balance, and stability and can even improve back pain. You can strengthen your core by doing common exercises (such as planks) on the floor on a mat. However, you can also try doing standing ab exercises, which are easier on your neck and hip flexors. Standing ab exercises are highly underrated! They can help engage deeper core muscles and are simply more useful to everyday life as most daily activities involve standing, not lying on the floor. Here are three effective standing ab exercises that you can start implementing in your fitness routine today!
1. Leg lift
Once you are in your workout clothes and warmed up, go ahead and stand up straight. Stretch your arms out straight in front of you, keeping them in line with your shoulders, parallel to the floor. Lift your right leg up towards your hands. You may want to keep a slight bend in your knee for better balance and range of motion. Lower your leg and repeat this with the other leg, completing as many reps and sets as necessary for your fitness level.
2. Squat
Although it is typically categorized as a lower body exercise, squats are a dynamic movement that also fully work your core muscles! As mentioned before, the core is involved in almost everything we do. You can do a body weight squat or a weighted squat. If you are new to fitness, start with a body weight squat. Stand straight up with your feet shoulder-width apart. Start to sit into your hips by bending your knees and dropping your bum toward the floor. You can stretch your arms out in front of you for balance, hands clasped, or just stretched straight out. Once your thighs are parallel to the ground, push through your heels to get back to a standing position.
3. Knee lift
Lifting your knees and legs requires core strength and solid balance. The high knee lift is an effective exercise for your core. To do this exercise, stand up straight and stretch your arms out so they are parallel to the floor. Lift your right knee up to the height of your waist and slowly lower it back down. Repeat this with the other leg. You will surely feel the burn with increased reps. 
You may be interested in these jobs
Found in: Talent CA - 2 days ago

---

JAE Consulting Inc

Sault Ste. Marie, Canada

Our client is a multi-national steal manufacturing company with it's headquarters in Ontario. They are currently looking for two Account Managers (located in Saulte Ste. Marie & Peterburough or surrounding areas). · The Account Manager will be the main point of contact for all a ...

Found in: Jooble CA - 4 days ago

---

Pnrstatusirctc

Chilliwack, BC, Canada

Order Picker Full Job Description · As an Order Picker , you will help continue to grow our online business and customer relationships by taking online customer orders and picking the product ready for customer pick-up or delivery in a timely manner. · Position Responsibilit ...

Found in: beBee S2 CA - 2 days ago

---

TAILOR ENERGY Inc.

Montréal, Canada

PERMANENT

La société TAILOR ENERGY Inc. recrute pour son siège social un (e) chargé(e) de projets · Conditions: Vivre au Canada et avoir droit au travail · Publication valide du 27 février 2023 au 31 mars 2023 · Conditions : · Dès le processus d'embauche, nous nous engageons à offrir un mi ...