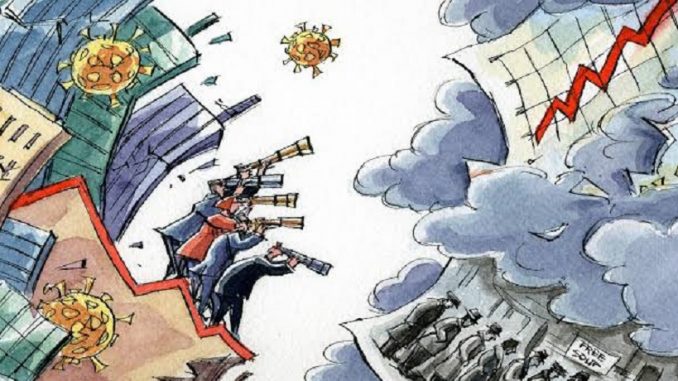 My sister came over for a swim and some dinner, and we talked about the impending demise of the human species. We agreed that it would happen slowly like dry rot in wood. We also agreed that the main cause of it would, in the end, be greed.
Right now we live in a global society that refuses, for the most part, to acknowledge that in any meaningful way, which in itself is a form of greed.
It's also one of the things that has made it impossible for the human race to work together on anything. And this is especially tragic these days when the threats to our continued existence as a species are so damn real.
The greed of the rich causes them to subjugate those who are not rich, by dumbing them down with distractions like sports, mindless drivel on TV and bubble gum music so they can all whistle while they slave away making the rich richer, while the rich squeeze all they can out of them.
The rich buy politicians that will support laws that allow them to be environmentally irresponsible, thus rendering the collective individual efforts to be responsible virtually useless.
The rich hoard money and use their bought-off politicians to keep them from paying taxes that would benefit everyone, and the world's infrastructure begins to fall apart.
Yeah, I know this all sounds pretty extreme. But all you have to do is think about what's happening to the world and you will see the direct result of all this is greed. Because greed creates neglect. Things that we should have been doing years ago, kept getting put off, because governments don't have enough money to fund them, and the corporations simply don't care.
A lot of this greed is a result of a terribly flawed business system called a free market economy. It puts extreme pressure on companies to perform so they can build a shareholder base. So doing their part to improve the countries they are profiting from…well that's just an expense that would ultimately lower their market value. It's much cheaper just to buy the right politicians, do nothing 
and pay no taxes either.
This greed breeds nothing but massive corruption, and in the case of a country like the US, an unbelievably huge national debt.
If I had written this a few years ago, I might have added that the world needs to undergo a massive re-think. But that ship has sailed. And there is no way the countries of the world, no matter how clever they may be individually, will ever be able to come together in time to prevent a massive economic cataclysm when ordinary people (the 99%) people can no longer afford to buy the things for sale by the 1%.  And when no amount of conversion to renewable power sources will prevent the climate from continuing to open a can of whup-ass on our planet.
We had pizza, by the way, and it was very good.
You have no groups that fit your search