5 Health Conscious Cocktails to Indulge in this Summer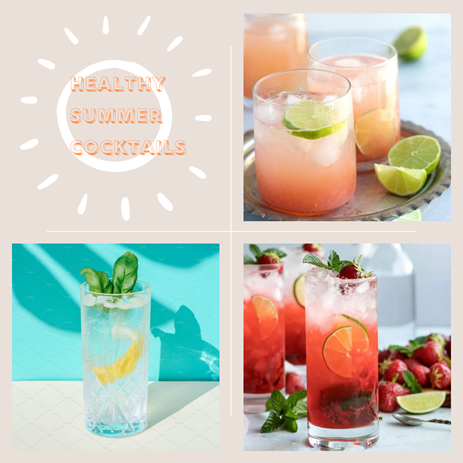 I don't know what it is but there is something about the summer weather that makes you crave cocktail hour. It's as if the warmth of the sun elicits a desire that can only be quenched with a day around the pool paired with a fun & refreshing cocktail. 
But for many health conscious individuals such as myself, cocktail hour isn't always so sweet. In fact, it's quite the opposite and happens very rarely. Despite the nice weather, cocktail hour typically does not align with the mainstream health conscious regime. Oftentimes, people who are either on a weight loss journey or just trying to keep it light for the summer, avoid alcohol because it can be high in calories, can lead to unnecessary snacking and ultimately it can disturb your health & exercise schedule. 
Although alcoholic beverages are often higher in calories and a night (or day) of drinking can mess with your regime there are alternatives for the health conscious cocktail lover this summer to indulge in without taking you off track or disturbing your routine. 
Here are 5 of my favourite light & yummy health conscious cocktails for everyone to enjoy this summer:
1.Kombucha Wine Spritzer 
What you will need: 
¾ cup white wine of your choice! I recommend Bask a low calorie, sugar free Canadian wine that comes in Crisp Rose, Sauvignon Blanc and Pinot Noir 
¼ Cup Seltzer or Soda Water (I will often use grapefruit or lime Bubly)
¼ Cup of Kombucha for sweetness 
1 Lime 
Add 1 handful full of ice to glass, stir & enjoy!
2. Homemade Lemon & Mint Gin Smash
What you will need:
2 oz of Gin 
¾ Honey Water or Liquid Stevia (to substitute for traditional Simple Syrup)
½ a Lemon
Fresh Mint 
Muddle lemon & fresh mint in a shaker, add gin and sweetener of choice. Shake with ice, garnish with mint and enjoy! 
3. Strawberry Basil Vodka Mojito 
What you will need: 
About 10 Mint Leaves 
3 Tbsp of Lime Juice 
2 Tbsp of Honey Water or Liquid Stevia 
¼ Cup of Vodka 
¼ Cup of Soda Water 
½ Cup Ice 
2 Tbsp of chopped strawberries 
Muddle mint leaves & fruit in glass, add lime, sweetener, vodka and soda water. Top over ice & enjoy!
4. Tequila Lovers Light Paloma 
What you will need: 
1 oz. Tequila 
¼ Cup of Grapefruit Juice 
Tbsp of Liquid Stevia 
¼ Cup of Soda Water (use grapefruit Bubly for extra flavour)
1 Cup of Corse Salt for rim
Add all ingredients to a shaker, pour over ice and enjoy a light tequila delight!
5. Honey Vodka Lemonade 
What you will need: 
1 oz. Vodka 
½ - 1 oz. Honey Water (use Liquid Stevia for vegan alternative)
¼ cup of Lemon Juice 
¼ cup of Soda Water 
Lemon Slice for Garnish 
Basil is also really nice to add to this cocktail if you like savoury & sweet pairings
Add all ingredients + ice into shaker, pour & indulge!
With these fun recipes you will no longer feel the need to deprive yourself of cocktail hour when the cravings call! Enjoy & remember to drink responsibly.
You may be interested in these jobs
---

Nokia Group

Ottawa, ON, Canada

Join us in creating the technology that helps the world act together Join us in creating the technology that helps the world act together · We are a B2B technology innovation leader pioneering the future where networks meet cloud. At Nokia you will have a positive impact on p ...

---

Maxi

Pincourt, Canada

OTHER

Referred applicants should not apply directly to this role. · All referred applicants must first be submitted through Workday by a current Loblaw Colleague. · Come make your difference in communities across Canada, where authenticity, trust and making connections is valued - as w ...

---

Synergie Hunt International

Corner Brook, NL, Canada

Full time

Follow us on : · CORNER BROOK - ASSISTANT MANAGER · Synergie Hunt · International is currently seeking high energy retail managers for their very · successful Canadian discount retail client. · The job will be · very physical with a large focus on retail inventory replenish ...